'Super spicy effect!' Round-shape plaster with warm stimulus for stiff shoulders and back pain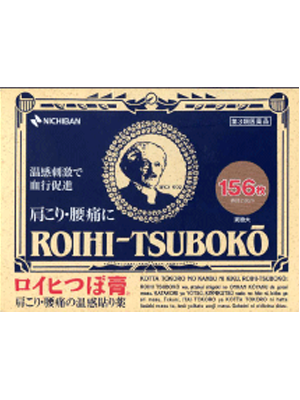 NICHIBAN

/ROIHI-TSUBOKO™/COINPAS™
| | |
| --- | --- |
| Country of origin | Japan  |
| Content | 156 sheets / large size 78 sheets  |
| Release date |   |
| Price | ¥1,200+tax  |
| Category | Category 3 OTC drug  |
<Product Features>
■Pain of the joints
■Low back pain
■Muscle pain
■Stiff shoulder
■Muscle fatigue
Product information
'Super spicy effect!' This is Roihi Tsuboko.Roihi Tsuboko is a round shape plaster with warm stimulus, which quickly works on stiff neck and low back pain. As it is coin-size, it's easy to patch even by yourself. It works on the targeted pain area! You'll never miss applying it. It works with super spicy effect.
Features ①
Easy self-patchable small, round shape. Easily patchable coin-size, working directly on pinpointed area. Though it's small, it works effectively. As many as 156 pieces.
Features ②
Warming stimulus. Nonanoic acid vanillylamide, which is similar to chili pepper component, gives warm stimulation and promotes blood circulation of the affected area! It works on pains together with anti-inflammatory effects, such as methyl salicylateion and ℓ- menthol.
Features ③
sticks and goes well on the skin. Besides, it's super adhesive! It perfectly fits on the painful area with Nichiban original technology of manufacturing tapes. It will less likely peel off even with constant movement. You will even forget that it's on.
・More Roihi series are available: "Roihi Tsuboko Big Size" for wide affected areas & "Roihi Tsuboko cool" that works well on pains.
How to use
Peel off Roihi Tsuboko from the film, and patch it on affected area with pain. Recommended not only for neck and shoulders, but also for tired knees, calves and soles of your feet.