Contents

12 sheets

Storage bag
Indications

lower back pain, Pain caused by stiff shoulders, joint pain, muscle pain, tendonitis (pain or swelling in the hands, wrists, or ankles), elbow pain (tennis elbow, etc.), bruises, sprains.
Characteristics of ROIHI-ON SHIPPU™FELBINAC
These heat patches contain 70 mg of felbinac?a nonsteroidal anti-inflammatory agent that acts directly on pain-causing substances?per patch.
Felbinac controls the biosynthesis of prostaglandin, a substance related to pain.
・Medicinal odor greatly reduced!
・Appropriate amount of heat stimulation increases blood circulation.
・Uses separator film with wave-shaped notches for easy application.
The patch straightens out easily, even if the adhesive side sticks to itself
Even if the adhesive side of the patch sticks to itself as you are removing the separator film, you simply pull the sides apart to straighten out the patch.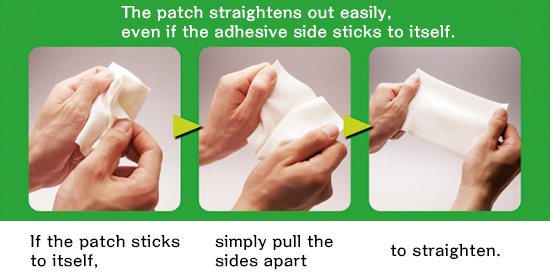 How to Use ROIHI-ON SHIPPU™ FELBINAC Plasters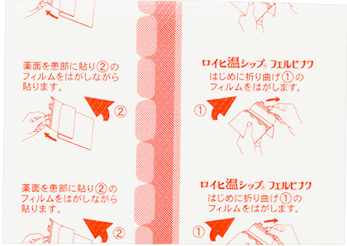 1.First, fold the patch outwards and pull off the side of the separator film marked [1].

2.Apply the patch to the affected area as you pull of the side of the separator film marked [2].
SPECIFICATIONS
ROIHI-ON SHIPPU™ FELBINAC TertiaryOTC
(over-the-counter)
・JAN code: 4987167066925
・Product number: ROF12
・Size: 10cm × 14cm
・Number of plasters: 12
・Recommended retail price: 1,300 yen (tax not included)

ROIHI-TSUBOKO™
 Cool type / Heat type
ROIHI (contains felbinac)