Contents

8 sheets(RF8)
16 sheets(RF16)

Storage bag
Indications

Pain caused by stiff shoulders, lower back pain, joint pain, muscle pain, tendonitis (pain or swelling in the hands, wrists, or ankles), elbow pain (tennis elbow, etc.), bruises, sprains.
Characteristics of ROIHI-FELBION™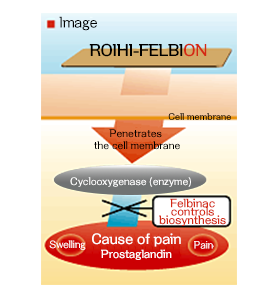 Contains 35 mg of felbinac!
Felbinac is a nonsteroidal anti-inflammatory and pain-relieving agent. Penetrating the affected area through the skin, felbinac acts directly on an enzyme, cyclooxygenase, thereby controlling the biosynthesis of prostaglandin, a substance that causes pain. Consequently, it has the effect of alleviating pain and inflammation in the shoulders, lower back, and joints, etc.

Excellent elasticity/adhesiveness
With its excellent elasticity and adhesiveness, the patch adheres firmly to the skin, even over joints, and is gentle on the skin, causing little scaling of skin cuticles when the patch is removed.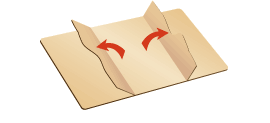 Apply by yourself!
The Wing-separator™enables you to easily apply the patch on difficult-to-reach areas such as your middle or lower back.

Discreet and odorless
The patch is a beige color, making it barely noticeable, and odorless.
How to Use ROIHI-FELBION™Plasters
Download Instruction Manual(8 sheets) Download Instruction Manual(16 sheets)

1.Fold the patch on the S-shaped slit along the center to make the tags come up.

2.Hold the ROIHI™ mark on the separator film and pull open from the center of the adhesive area.

3.Apply the center of the adhesive area to the affected area and pull off one side of the separator film, holding the ROIHI™ mark on the film as you pull.

4.Remove the remaining separator film, holding the ROIHI™ mark on the film as you pull.
SPECIFICATIONS
ROIHI-FELBION™ TertiaryOTC
(over-the-counter) drug
・JAN code: 4987167059491
・Product number: RF8
・Size: 7cm × 10cm
・Number of plasters: 8
・Recommended retail price: 1,124 yen (tax not included)
・JAN code: 4987167059507
・Product number: RF16
・Size: 7cm × 10cm
・Number of plasters: 16
・Recommended retail price: 1,886 yen (tax not included)
ROIHI-TSUBOKO™
 Cool type / Heat type
ROIHI (contains felbinac)